Accessibility & Inclusion
Your Online Presence > Accessible Websites, Strategy & Development, Designing A Site

Using zoom layouts - alternative style sheets for improving your site's accessibility
By Kath Moonan, AbilityNet

This article explains who benefits from Zoom layouts also known as alternative style sheets or skins, the best way to put them into practice and key resources that will help you explore this topic further. The article assumes familiarity with Cascading Style Sheets (CSS).
Introduction
People with low vision or dyslexia can benefit from alternative page layouts which maximise legibility and reading comfort. The key technology that enables you to do this is Cascading Style Sheets (CSS). There are an increasing number of sites such as AbilityNet, DRC and MY Web my Way on the BBC site that use this accessibility enhancement. It is worth pointing out that there is still some debate about the best techniques you should use, what this article covers is the best practice options available at the moment.
Users with Low Vision
Users with low vision rely on increasing the text size to read web pages easily.
Most websites use a multicolumn format of three or more columns. Though the majority of modern web browsers such as Internet Explorer (IE). Firefox, Opera and Safari allow the user to increase text size, many page designs do not scale well and are often hard to read clearly.
Also, people who rely on screen magnification software to read web pages often miss information when the layout is complex, particularly when information spans across more than one column such as multicolumn online forms.
Offering alternative page layouts using style sheets is an effective solution to these problems.
Many people with low vision find the following web page options helpful:
Single column layout
Fluid layout
Navigation presented horizontally
Light text on a dark background
Large text
Bold text
Users with Dyslexia
Users with dyslexia may find the conventional black text on a white background too glaring and prefer dark text on a pastel background.
Other issues which make text easier to read for dyslexic users are:
Good use of whitespace to separate items
Large, sans serif typefaces such as Arial Tahoma and Verdana
150% or double line spacing
High contrast colours (but avoid red or orange body text)
The benefits of alternative style sheets
Before CSS was widely used, websites offered a 'text only' version for people who required a high contrast display or a 'linearised' version without HTML tables or multiple columns.
'Text only' has always been controversial because many users are unhappy about using a separate version of the website which is often perceived as being inferior. It's much better to allow all users to use the same website and provide a way for them to adjust it to their needs.
Technical Compliance
The World Wide Web Content Accessibility (WCAG) 1.0 checkpoint referring to providing alternative style sheets is Priority 3:
11.3 Provide information so that users may receive documents according to their preferences (e.g., language, content type, etc.)
Creating zoom layouts
Creating a zoom layout involves considering the following:
How to inform your web users of the different options available
What alternatives layouts to provide
How to technically implement the style switcher
Telling the user which style sheets are available
At the moment there is no agreed definitive way to alert users to different style sheet options though many websites use a series of stylised letter "A"s as a navigation device.
On the AbilityNet website these are located to the right of the page. This location is used because it is a page area associated with key site features and links such as search and contact details.
It is important that the design of the interface buttons reflect the colours of the Style sheet they will bring in , and are large enough for a user with low vision to see, and are spaced adequately apart (at least 5 pixels) so someone who has difficulty controlling a mouse can easily click on them.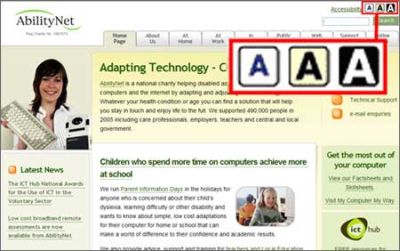 Until more usability research is conducted into zoom layouts AbilityNet recommend using this system.
Other alternative methods include providing a choice of options on a separate page and using different symbols in different locations.
Alternative styles
The next step is to decide what styles you wish to provide for your visitors.
AbilityNet recommend the following:
For low vision users,
Use a single column layout:

Fluid layout
Place navigation at the top of the page
Provide margins – i.e. 50px so text is separated from the edge of the browser

Use a proportional measurement for line spacing such as percentages or ems, use a generous line space such as 150% or 200%
Include relevant graphics That add meaning to the page you can remove the decorative images that have been set in the style sheet.
AbilityNet used the colour scheme recommended by Doug Bowman of StopDesign:



Links #FC3 (ensure all links are underlined)

Other elements such as headers can be styled maintaining a high contrast scheme. Use type sizes to clearly mark heading levels etc.
For users with dyslexia
AbilityNet used the colour scheme recommended by Doug Bowman of StopDesign

Use a pastel background such as #f3f0c8
Link colours #0000FF
visited link #492a49
A multi column layout can be used, ensure columns are well spaced and consider including visual dividers such as borders between the columns
Use a proportional measurement for line spacing such as percentages or ems, use a generous line space such as 150% or 200%
Include graphics – this is not a text only version!
For more in-depth information on CSS visit http://web-graphics.com/mtarchive/001627.php
Technical Implementation
The most accessible way to implement style switching is using server side scripting.
See Using PHP to implement zoom layouts for an example.
If server side scripting is unavailable you can also consider using client side switching such as JavaScript. If JavaScript is used ensure that all interface elements are written using document.write so that no unusable options are displayed on the page if JavaScript is not available.
For more information on using JavaScript visit All that Malarkey which includes dowloadable scripts you can try out for yourself.
Sources
Websites
Further reading
Much of the research into Zoom layouts began after an article by Joe Clark was published on the website A List Apart. The article popularised Zoom layouts and encouraged the web accessibility community to research new interface designs for vision impaired users. There are several excellent articles on the web regarding zoom text and as more research is conducted this number is likely to grow.
About the author
Kath Moonan, AbilityNet
AbilityNet is a national charity helping disabled adults and children use computers and the internet by adapting and adjusting their technology.

Glossary
Browser, CSS, HTML, Internet, JavaScript, Line, PHP, Screen Magnification Software, Software, Style Sheet, WAI, WCAG, Web Page, Website
Related articles
Published: 12th January 2007
Copyright © 2007 Kath Moonan, AbilityNet

This work is licensed under a
Creative Commons Attribution-NonCommercial-NoDerivs 2.0 UK: England & Wales License
.