Software > Open Source, Office Applications

Open Office 2: a free and open source productivity application
By Michelle Murrain

This article outlines all of the basic components of Open Office: Writer, Calc, Impress, Base and other components. It gives an overview of the features, file types, and interoperability of these applications, and examples of potential uses. The article also includes comments from voluntary sector users when exposed to Open Office.
Introduction
Open Office is a free and open source office productivity suite, which replicates most of the functions of Microsoft Office.
Open Office is a full-featured office suite that has been under development for more than 10 years, and was released as open source in 2021. It has an active developer and user community, and has grown in maturity and sophistication. It is a multi-lingual, integrated productivity suite, and contains all of the same components as Microsoft Office, as well as others, which we'll describe below. It is free to download and use and is cross-platform, thus runs on Windows, Apple's OS X, and Linux (as well as other UNIX flavours). It can read and save files in Microsoft Office formats, like .doc for word processing files, .xls for spreadsheet files, and .ppt for power point. Open Office Base can read table structure and data from .mdb (Microsoft Access) files.
The major components, Writer, Calc and Impress
Writer
The Open Office word processor, called Writer, is a full-featured word processor, with the standard capacities present in Microsoft Office, or any other word processor that is available. It has all of the standard font formatting, margins, list types, etc. It has a mail merge wizard, page layout capabilities, and the ability to insert media of all types. You can use style sheets. It can easily do multiple columns, and complex tables. Basically, everything you can do with Word, you can do with Writer. The major difference is in the arrangement of the menus. It takes a little time to get used to the OO menus and dialogue boxes in comparison to Word. For someone who is not already familiar with a word processor, OO Writer is as easy (or as difficult) to learn as any. Open Office writer can do all of the document work of a voluntary sector organisation: letters, reports, newsletters, and flyers.
View larger Open Office Writer main window image (opens in new window)
One of the great strengths of Writer (and the whole suite in particular) is that it is very flexible in file formats, and embraces open standards. OO Writer reads and writes a huge number of file types, including all MS Word formats (except the most recent MS Office 2021 formats), rich and plain text, HTML and DocBook. Files can also be exported to PDF, XHTML and LaTeX.
View larger Open Office Writer file format options image (opens in new window)
The feature of exporting to PDF means that it is unnecessary to buy Adobe Acrobat (a fairly expensive application) in order to create PDF files from your word processing documents. This makes it much easier to create portable reports, flyers, charts and the like.
The native format for Open Office files is Open Document Format – which is an open standard. This means that any program that can read and write this format will render (display) these files exactly correctly, because the way the format is created is publicly known and available to all. Microsoft's formats are not open standards, thus sometimes files created in MS Word or another MS Office program don't render correctly.
Calc
Open Office Calc, like its MS Office counterpart, Excel, is a highly useful spreadsheet application, for financial calculations, contributor or client data, or volunteer data. Again, most of the features of Excel are present in Calc. There are some functions missing, some specific things work differently. For example, Excel's pivot tables are called "Data Pilots" in OO Calc. Calc also can read and write a large number of file types, including all MS Excel types (except 2021,) as well as export to PDF. The charts work very nicely, and there are many types.
View larger Open Office Calc main window image (opens in new window)
Impress
Impress, the PowerPoint counterpart is equally full featured as compared to PowerPoint. It has all of the things that you'd expect from a mature, feature-rich presentation package: different layouts, drawing tools, sophisticated transitions and animations, font formats, the ability to manipulate elements on a slide, etc. The only thing missing, really, is that large library of clip art. Like the rest of the suite, Impress can read and write a wide array of presentation file types, and can export to PDF.
View larger Open Office Impress main window image (opens in new window)
Open Office Base
What has kept Open Office (or any other office suite competitor to MS Office) off of the desktops of many users is the lack of a database program like MS Access. Up until version 2.0, there was no component in Open Office which could serve as a database. However, in version 2.0 onwards, this has changed. This component is called Open Office Base, it is at this point very rudimentary, but it is growing in capability. If you are nostalgic for the days of MS Access 10 years ago, then you'll be pretty happy with Base. But it has potential – it can create fairly basic contact or donation databases easily.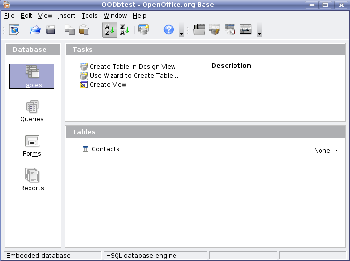 View larger Open Office Base main window image (opens in new window)
The interface looks similar to that of MS Access. It clearly has been designed to replicate as much of the feature set as possible. It has the basic components of an Access database – tables, where the actual data lives in a structured form, reports, for getting the data out of the database in a useful report structure, forms, for input and browsing of data, and queries, to ask specific questions of the data. There are wizards to help, but they are pretty buggy.
Base integrates with Writer and Calc for functions like mail merge, or quantitative analysis. It can read MS Access (.mdb) files, although only the table schema and data, not the forms, queries, reports or macros. It can also access local and remote databases of many types. This can be very useful. For example, if you have an online database of some type, and you'd like to be able to have a desktop interface for that, for easier data entry, or reporting, Base can do this much the same way as Access can.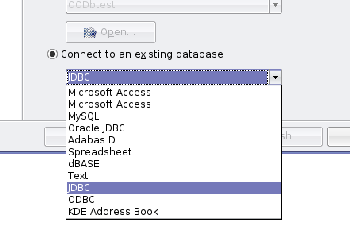 View larger Open Office Base connect to database image (opens in new window)
Other components – Math and Draw
In many ways, one of ways that Open Office differs from MS Office, besides the fact that OO is free and open source, and uses open standards, is that OO bends a little more toward an educational and scientific audience, rather than a business audience. So although there is plenty of business-oriented functionality (certainly enough for the vast majority of voluntary sector organisations) there are some features that are more focused to the educational and scientific audience. Math and Draw are two of these components.
Math
Math allows you to create nice looking formulas, by inputting text into part of the application in a way that follows specific rules. Luckily, there is a handy tool bar for most kinds of equations.
View larger Open Office Math image (opens in new window)
Math can save as Open Office format, or Math ML (a specific kind of Math markup language), and export to PDF.
Draw
Draw is very much like programs like Paint Shop Pro, or, a very light version of Adobe Illustrator. It has a plethora of drawing tools, text formats, arrangements and the like.
View larger Open Office Draw image (opens in new window)
Draw can save in Open Office format, and can export to many different kinds of graphics formats (JPEG, PNG, etc.) and PDF. It can also open many different kinds of graphics formats.
Open Office use in the voluntary sector
An example of the use of Open Office in the voluntary sector is a project in the East of England, funded by ChangeUp, with 12 VCS organisations trying out Ubuntu Linux on the desktop, which included Open Office as the productivity suite. One of the successful parts of the project was that for many people once they were exposed to Open Office, they were able to find out that they could use it to provide them with what they needed.
One user said:
"I managed to create a four page newsletter for our project using just Open Office Writer. Without having to move from one programme to another. Again, the whole process of creating a newsletter was new to me so it was very much trial and error but I learnt a lot about the programme and what it can do."
And that user subsequently installed Open Office at home.
Another user, when asked about what interested him most was
"how easy it was to use the open office software – even without training at a basic level for anyone who has any familiarity."
Another comment suggested that more education about the capabilities of OO was necessary:
"Open Office compatibility with MS and its additional facility to export as PDF documents, give it strong advantages, especially if documents need to be moved around different offices or external destinations. However, many charity workers will need education to appreciate this and the other advantages."
Open Office, particularly Writer, Calc and Impress, can provide all of the functionality of Word, Excel and PowerPoint, in a format that is relatively easy to get used to, and works on any platform. In addition, there is a vibrant community of developers and users, and organisations are not dependent upon donations from Microsoft to get a full-fledged productivity suite, since it is freely available and downloadable.
Thanks to Chris Bailey of CIAC for the case study.
See also the Open Office documentation for help with using open office.
The latest version of OpenOffice is version 3 with many new features including:
Ability to open Microsoft Office 2021 documents

Native support for inserting tables into Impress presentations
Improved crop features in Draw and Impress
Spreadsheet collaboration through workbook sharing so multiple users can easily add their data to a spreadsheet
Glossary
Database, DocBook, HTML, JPEG, LaTeX, Linux, MAC, PDF, PNG, Processor, Software, Spreadsheet, UNIX, Wiki, XHTML
Published: 1st August 2021 Reviewed: 25th March 2021
Copyright © 2021 Michelle Murrain

This work is licensed under a
Creative Commons Attribution-NonCommercial-NoDerivs 2.0 UK: England & Wales License
.