Software > Web & Email Applications
Internet, Email & Telephones > Email & Communication Services

Alternatives to Outlook Express: Finding the Right Email Client
By Michelle Murrain

This article will be an overview of email clients for all platforms.
What is an email client?
What email clients exist, what are their strengths and weaknesses
Going without a desktop email client: webmail
Introduction
Outlook Express is the default email client for Windows [on Windows Vista and from Outlook Express version 6, Outlook Express has been superseded by Windows Mail] . It comes packaged with every new Windows computer, and is installed when you install Windows. It's very bare bones, and leaves a lot to be desired. What are your options? What if you aren't on Windows at all – what kind of email client options are out there?
First a definition of email client. An email client is any software, whether on your desktop, or on a web server, that allows you to get, read, and respond to your email. Some of this depends on what email server you have your email on – an organizational server, your ISP, a commercial service, or a web-based email service, such as Gmail or Yahoo mail.
The advantages of reading your email on a desktop client (that is, one that sits on your computer, instead of being web-based) is that it is easier to keep a local archive of mail, as well as read and respond to email when you are offline (very useful in an airplane.) What a desktop client (like Outlook Express) does, is grab your mail from your mail server, and make a copy locally on your own hard drive. Depending on what protocol you are using, and what configuration you make, a copy of that email could remain on the server, or it could be deleted when the email is downloaded.
POP3 (Post Office Protocol) is a protocol where the mail sits in one mailbox (your inbox) and when a request is made to get the mail, it is downloaded to your client, and, the default behaviour is that it is deleted from the server. IMAP (Internet Message Access Protocol) is a protocol where there can be multiple email boxes, and that the procedure is to synchronize the server and the client. This is very helpful if you read your mail on multiple computers (for instance, a machine at work, and a machine at home.)
Finding the right email client for you comes down primarily to personal preference. A few email clients have features that others do not, and those might be important to you. Mostly, it is a matter of look and feel – what you prefer, so trying out a number of clients is a good idea.
An important note: if you are trying out different clients, and are using POP, make sure that the option to "leave mail on the server" is checked (or, in some cases, there is "delete mail from server" leave that unchecked.) This way, you can try different clients, and not lose any of your mail, since the default option for POP clients is to delete the mail from the server.
Microsoft Outlook
While Outlook Express is free, and comes with Windows, Outlook is part of the Microsoft Office Suite, and therefore has a cost. The least expensive version of Office 2021 is £99 [Retail price. Registered charities can get cheaper or donated software through charity software suppliers]. Outlook includes not only an email client, but also a calendar and contact list, and all three are integrated together.

Outlook is especially useful if your organization has a Microsoft Exchange server, which allows for sharing of calendars and contacts. Outlook is also useful if you want to have all of those features integrated. It is one of the few email clients that does this.
Evolution
Surprisingly, one of the only other email clients that not only has this integrated functionality, but also works with Exchange server, is the email client Evolution. Evolution is an open source client, only available for Linux. It has been around for quite a while, and is quite mature and stable. It is now owned by Novell, which has been supporting the project.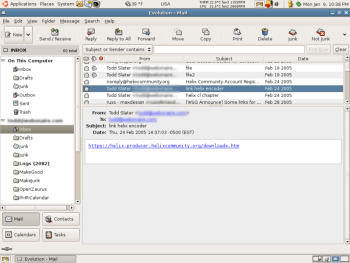 Screenshot by dontodd
view larger image of Evolution
Mozilla Thunderbird
Mozilla Thunderbird is a cross-platform email client based on the Mozilla framework (the same framework as Firefox.) It is a full-featured email client, and because it is based on an open source framework, there are many plug-ins available to extend Thunderbird's' functionality, or change it's user interface. It is a free download for Windows or Macintosh, and is often a standard part of a Linux desktop distribution. It is the only email client that is completely cross-platform. The Mozilla Suite, now called "Sea Monkey" has integrated email and web browsing (and other features.)
Apple Mail
Apple Mail is the mail client that comes standard with Macintosh OS X. It is also a full-featured client, and integrates well with Apple's iCal and AddressBook. It is probably the most popular email client for the Macintosh.
Entourage
Entourage is a part of the Microsoft Office for the Mac suite, and is basically the Outlook equivalent. It integrates contacts, calendars and email, and can also connect with Exchange servers. Because Apple's mail includes integration with iCal and AddressBook, if all you want is integration – it makes sense Apple Mail, unless you've bought Microsoft Office for the Mac already. However, if you are connecting to an Exchange server, for instance, Entourage is a good choice. Entourage can sync with Apple's AddressBook and iCal, and some prefer it's user interface.
Eudora
For many years, people used Eudora, both on Windows, and on the Macintosh. In fact, it was one of the first email clients, and predates Outlook. Eudora came in three flavors: Paid (full features, no ads), Sponsored (full features, with ads) and Lite (fewer features, no ads.) Unfortunately, the software is no longer supported. Qualcomm, the owners of Eudora, have decided to build a Eudora user interface on top of Thunderbird. This is code-named Penelope, and is in beta. Because it is a Thunderbird add-on, it will be fully cross platform.
Opera Email
Opera is a web browser that has a loyal following. It is the third most popular browser, after Internet Explorer and Firefox. Like SeaMonkey (the Mozilla Suite) Opera also has an email client. It is also completely cross-platform, and can be used on Windows, Mac, Linux, and even OS/2!
Web mail clients
Increasingly, people are reading their email entirely online, or combining desktop clients with web mail. The most popular web mail services are Gmail and Yahoo mail. Both of these provide intuitive, user-friendly web-based clients to read email. Both email clients include ads, generally keyed to the content of the emails in your inbox (unless you pay for the accounts.)
view larger image of gmail

They are a good alternative if you are always online, and use different computers. Most of them include a large amount of free space to hold and archive mail.

Most ISP (Internet Service Providers) also have web mail, but in general, the features of ISP web-based email clients is far below the features and usability of either Gmail or Yahoo mail, and other large online email services.

Gmail and Yahoo's paid email service allows you to read mail using a standard email client such as those described above. Gmail allows this for free, and includes both POP and IMAP. Yahoo's POP access is restricted to paid accounts, and they do not have IMAP at all.

It is always possible to forward mail to Gmail or another service. Some webmail services, such as Gmail, allow you to send mail from Gmail as if you were sending mail from other email addresses.
Summary
There are many free options that provide a better, more feature-rich experience than using the standard Outlook Express that is bundled with Windows. From much more featured Outlook, to open source options such as Evolution and Thunderbird, such as options on the Macintosh like Entourage and Apple Mail, and then to web mail services and clients, it is possible to find exactly the right client for your needs. Since they are just about all free, it's easy to give them a test run, and see what feels best.
Glossary
Browser, Email Client, Email Server, Hard Drive, IMAP, Internet, ISP, Linux, MAC, POP3, Protocol, Software, Web Browser, Web Server
Related articles
Published: 28th March 2021 Reviewed: 6th April 2021
Copyright © 2021 Michelle Murrain

This work is licensed under a
Creative Commons Attribution-NonCommercial-NoDerivs 2.0 UK: England & Wales License
.